Mashed pumpkin and carrot soup
Ingredients (for 3-4 servings):
3 carrots (300 g);
about 500 g of pumpkin (frozen is also suitable);
5-6 cloves of garlic;
0.5 red onion;
1.5 cubes of vegetable broth;
1 tea. spoon of sweet paprika powder;
a handful of basil (frozen or fresh);
1.5 teaspoons of curry;
1 tea. spoon of turmeric powder;
some parsley.
Make:
1. Peel carrots and pumpkins, cut them and boil them in water with dissolved cubes of vegetable stock – cook for about 25 minutes. (or until the vegetables are soft).
2. Fry garlic and onion in a pan with oil.
3. Mix all other ingredients and spices in a pot with boiled vegetables, add fried onions and garlic. Then grind it with an electric blender.
4. When serving, you can add pumpkin seeds and add vegan cream.
Photo blog. / Mashed pumpkin-carrot soup
Homemade "cheese" with basil
This "cheese" is similar to white cottage cheese, delicious as a snack and a good ingredient for other dishes. Unfortunately, the cheese doesn't melt, but you can put it on a sandwich or even on a pizza, because it tastes perfect.
Ingredients (for 1 large cheese or 2 small cheeses):
65 g of cashew nuts (soaked in water overnight or in hot water for 15-30 minutes);
236 ml of water;
1.5 tea. spoon order (about 5 g);
2 teaspoons. spoon of nutritional yeast (10 g);
1.5 tea. spoon of garlic powder (5 g);
1.5 tea. spoon of tapioca starch (about 6 g);
about 2 tbsp. spoon of lemon juice (9-10 g);
a pinch of salt;
1 tea. a spoonful of basil.
Make:
1. Cover the cashew nuts in hot water and leave for 15-30 minutes (if not covered overnight).
2. In a small pot, mix it with 118 g of water and set aside (do not boil).
3. Put the soaked cashew nuts and all the spices in a container, pour 118 g of water and grind well with an electric blender.
4. Mix the mashed mixture with agar-agar mixture and heat everything on a small fire until it boils and thickens (after boiling, heat only for a few minutes, because it thickens quickly). Divide the mass taken directly into the desired shape.
5. It is recommended to keep it in the refrigerator for at least one hour before cutting.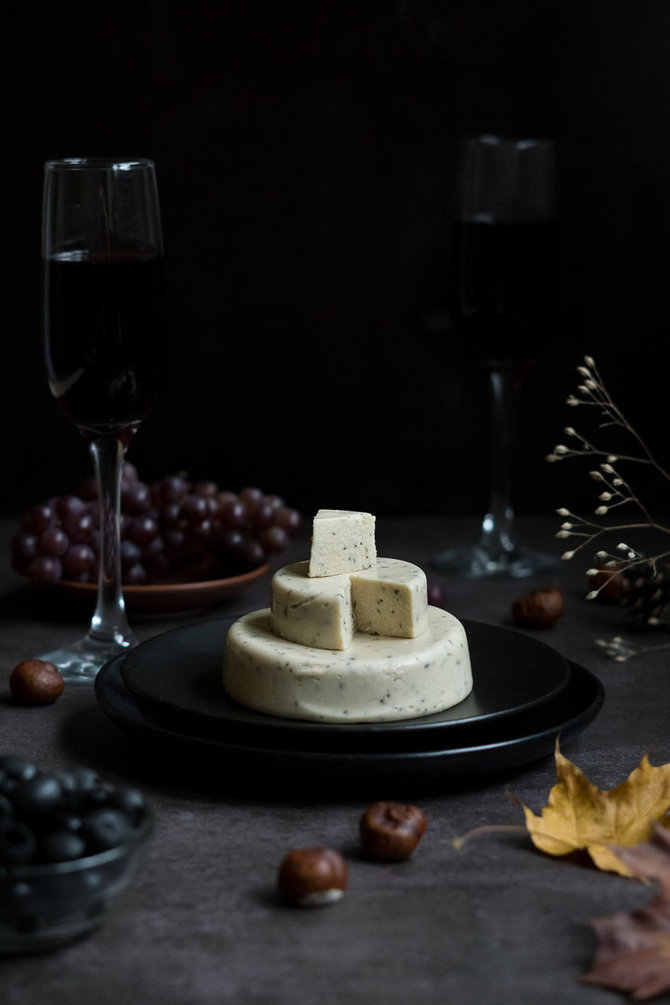 Photo blog. / Homemade "cheese" with basil
The publication of these recipes is part of the "Nori gali" project of the non-profit organization "Gyvi gali". This project inspired the discovery of filling and delicious plant foods. Look for interesting new recipes in "15min" every Monday! We thank the organization "Gyvi gali" and @plantasticka for this week's recipe