Vita and Edgaras Laurinavičiai, who live in Balsiai, assure that they are not farmers, and that they grow more pumpkins as a hobby.
Last year, we managed to grow a lot of plants on the land near the house: as much as we could not eat ourselves. With their daughters, the family set up a self-service store near the house: those who want to buy pumpkins can pick them themselves and leave money.
Personal archive photo/Family building shop near home.
"We got a lot of interest last year. Maybe you saw it somewhere on Facebook. They traveled from all cities – from Šiauliai and from Klaipėda. People bought it to eat, for holidays, as decoration. It even ran out. Then we asked for support, and after accepted, we bought agricultural machinery and planted pumpkins again this year. The harvest looks good", said V.Laurinavičienė, the owner of the house.
Last year, Laurinavicii managed to grow a giant pumpkin that weighed about 60 kilograms.
Part of the pumpkins grown by the family goes to the festival in Švekšna, and part is also donated to charity organizations.
This year, as the owner of the guesthouse said, it is not possible to grow such large pumpkins. "There is no rain. Due to the sunny weather, the pumpkin ripens faster, but not as big. However, we also have a big one, weighing about 30 kilograms," said the woman.
The family started harvesting only recently. How many pumpkins were grown – guarantee – that does not count. "Hundred? A thousand?" asked the reporter.
"More like a thousand. This is the beginning of the harvest," answered the interviewer.
They put pumpkins in a pile, daughters Mēta and Luknė help carry them to the convenience store.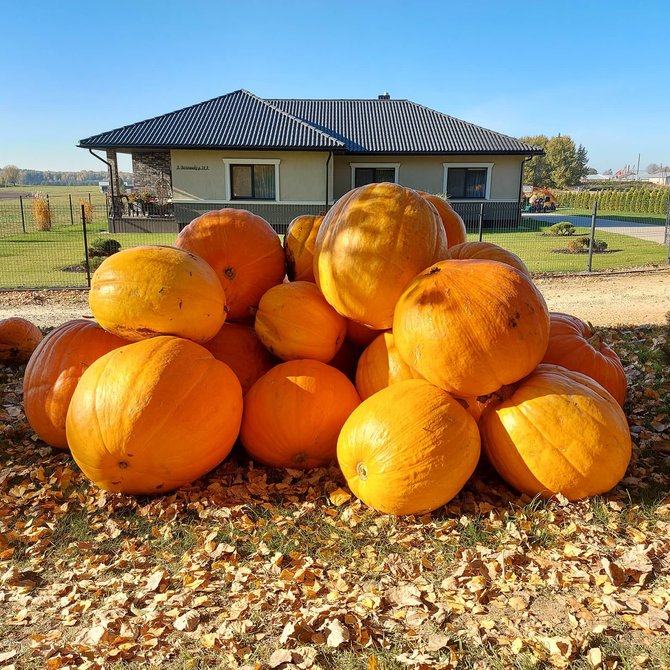 Photo from personal archive / The large pumpkins grown by Laurinavičius weigh up to 30 kilograms each.
Today, people buy more pumpkins to eat, opting for smaller ones that cost 2 euros each.
Large pumpkins, weighing on average 6 to 10 kg, cost 3 euros each. They are bought more often, especially Halloween varieties, for autumn holidays and carved.
"When we do the store, we trust people. Maybe one of them does not put money, maybe not all. But when we have a large number of pumpkins, counting is difficult. We leave it to people's conscience", – revealed V.Laurinavičienė. He has a second convenience store this year – on the Klaipėda-Kaunas highway, next to the "Piligrimai" cafe.
Now the owners are hoping for better fall weather so the frost doesn't creep in and the pumpkins last longer.
"We grow without chemicals, we only fertilize with manure and that's it. We have several types of pumpkins, but Halloween is still the most popular," said the woman.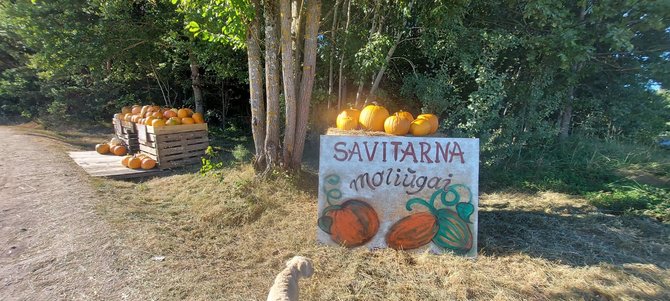 Personal archive photo / pumpkin shop
His family also eats pumpkin. She usually cooks soup and makes a variety of pumpkin pies.