Zucchini itself does not have a distinct taste, so it is recommended to add some ingredients to get the taste. In this soup, the addition that will help the zucchini shine is the mint, while the feta cheese will add saltiness and texture to the soup. If you have it, use creamy feta (it's spreadable), but if you don't, traditional feta will work.
For vegetable broth, use all kinds of wilted carrots, onions, leftover celery, parsley stalks, green parts of leeks…
If you use zucchini to make pancakes or fries, after pressing the grated zucchini, do not pour the juice – you will use it perfectly in this soup! In short, I encourage you to be creative, experiment with flavors and spices, don't just follow the recipe, but use what you have in the fridge.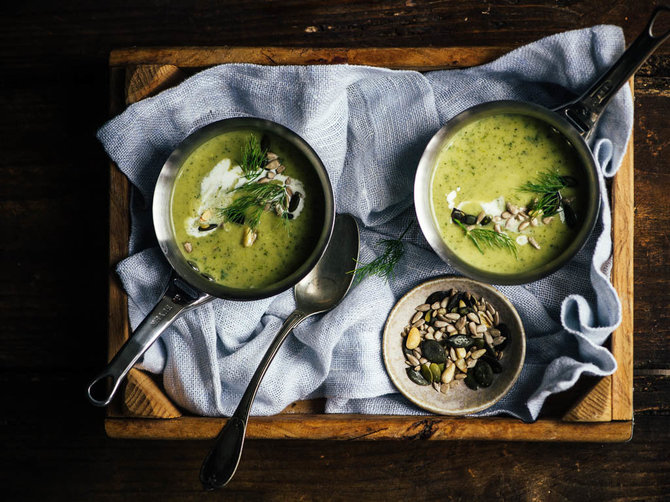 Nida Degutienė's photo. / Zucchini soup soup with mint and feta
Ingredients (for 4 people):
1 tablespoon of olive oil (or melted butter);
1 large onion, chopped;
1 clove of garlic, chopped;
750 g zucchini, cut into slices;
Grated peel of ½ lemon;
1 teaspoon of herbs (e.g. Provençal mix, you can also use oregano/thyme);
salt;
pepper;
750 ml vegetable broth (if you don't have it, replace it with another broth or water);
2 tablespoons of basil pesto;
50 g of feta cheese (preferably spread, but traditional can also be used);
a handful of fresh mint leaves;
125 ml of milk (choose fat, it will be tastier);
fresh lemon juice (about 1 teaspoon or less to taste);
seeds, for serving (sunflower, pumpkin, hemp, etc.);
cream, for serving (if desired).
Make:
1. Heat oil (or butter) in a pan and fry the onion until soft. At the end of cooking, add garlic and cook for another minute.
2. Add zucchini, lemon peel and herbs, sprinkle with a pinch of salt. Cook for about 5 minutes, until the courgettes are slightly soft, caramelized – this will enhance the flavor of the soup. Pour the broth and after boiling, cook for about 20 minutes with the pot covered on low heat.
3. Remove from heat, add pesto, feta and mint. Blend everything with an electric blender until smooth. Pour milk, add black pepper and mix everything. Taste for salt, season with lemon juice to taste.
4. Before serving, heat the soup (just don't boil it!), pour it into a bowl, you can taste it with cream. Also sprinkle with seeds, garnish with herbs and serve with crusty bread.
Nida Degutienė's photo. / Zucchini soup soup with mint and feta
with 15 minutes Nida Degutienė, who shares her recipes with readers, is well known to many Lithuanians who are interested in creative cooking at home. Nida writes a popular food blog Nida's recipes, has published two cookbooks, "The Kitchen of Israel" and "Fish in the Kitchens of the World." Weekly 15 minutes find new Nida recipes and read interesting food.