As Vilma Juodkazienė, a food expert from the shopping network "Iki", quoted in the press release, said, soup is not only a simple dish, but also a useful dish. Actually, even to prepare a simple dish, you need to know some preparation rules.
"Before cooking the soup, don't forget to fry the vegetables, especially the onions and garlic. When fried, this vegetable becomes a real flavor bomb that gives every soup a unique flavor and aroma. If you only have time, you should also make homemade broth," said the food expert and shared some other reasons why you should make homemade soup.
Photo Vida Press/Mashed sweet potato soup
Why make and eat soup?
Lots of vegetables. Soup is a great dish to add vegetables to your diet. You can taste the soup not only with traditional vegetables, but also with things such as parsnips, fennel, even various green vegetables, such as spinach. In addition, not only fresh but also frozen vegetables are perfect for soup.
It doesn't take much time. Soup is a dish that doesn't take much time. And if you also use a pressure cooker, you can prepare a savory soup in just a few minutes. When preparing to cook the broth, it is worth making another. The broth is also perfect for preparing other dishes, such as homemade stews or even complex dishes like risotto.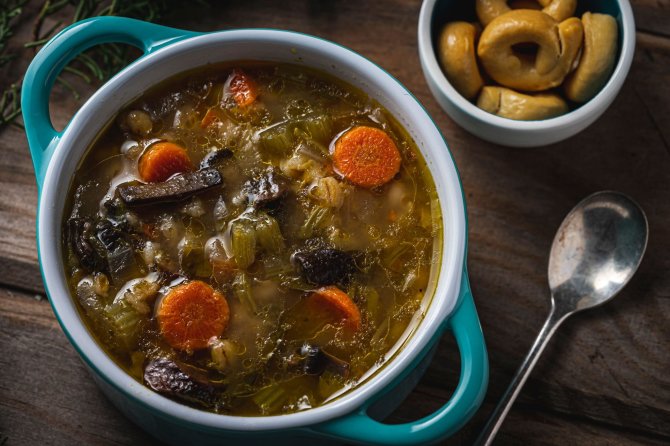 Vida Press photo/Vegetables, groats and mushroom soup
It can be frozen. Soups and stews are the best dishes if you want to prepare food for several days in advance. However, if you have cooked the soup too much, you can safely freeze it. In addition, frozen soup or broth does not lose its flavor and is perfect for days when you do not have time to cook lunch or dinner.
Maintain water content in the body. Since winter is a cold season, it is not uncommon to drink less fluid than necessary. But even if we don't sweat because of the heat, we still lose fluids during our daily activities. Since the base of the soup is water, this dish is a good way not only to fill up, but also to maintain the amount of fluid in the body.
V. Juodkazienė offers to make soup at home and shares 3 different soup recipes.
Roasted carrot soup
ingredient:
1 kg of carrots;
2 onions;
3 cm of ginger;
1 l of chicken broth;
200 ml of cream;
a pinch of salt;
pepper;
4 teaspoons. spoon of olive oil.
Make:
1. Heat the oven to 200°C.
2. Wash, shave and cut the carrots into 3 parts. Line a baking sheet with baking paper, put sliced ​​carrots on it, drizzle with olive oil and sprinkle with salt and pepper. Place the tray in the oven, and after 15 minutes, stir the carrots so that all sides are cooked evenly, and bake for another 15 minutes.
3. At this time, prepare other soup ingredients – chop onion and grate ginger root.
4. Heat olive oil in a pan, add chopped onion, ginger and cook for 8 minutes. Then pour the chicken broth into the same pot and wait until it boils.
5. Remove the pan from the heat, add the fried carrots and puree the soup with a hand blender until smooth. Finally, stir in the cream and season with salt and pepper if necessary.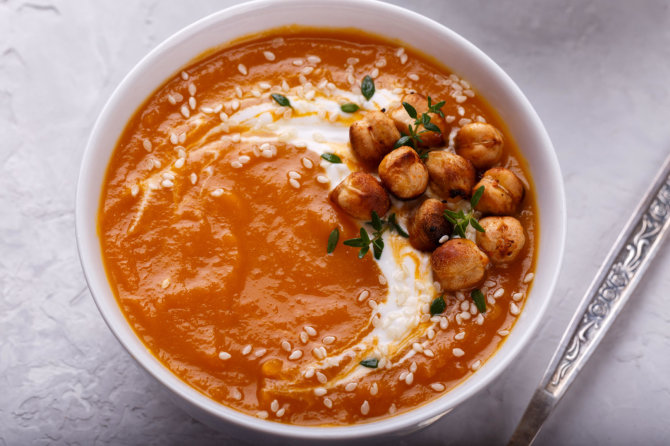 Vida Press photo/Grinded soup
Italian vegetable soup
ingredient:
3 carrots;
2 cloves of garlic;
1 onion;
1 stalk of celery;
1 l of vegetable broth;
1 can chopped canned tomatoes;
1 small zucchini;
1 can of canned peanuts;
40 g spinach leaves;
300 g of pasta;
200 ml tomato paste;
a pinch of salt;
pepper;
basil;
3 teaspoons. spoon of olive oil.
Make:
1. Wash carrots, zucchini, celery, onions and garlic cloves, peel and cut into small pieces.
2. In the pot where you will cook the soup, heat the olive oil and, after adding the onion, fry for 3 minutes. Then add all the remaining chopped vegetables and cook for another 6 minutes. Add canned beans and tomatoes, pour tomato paste and cover everything with hot vegetable broth.
3. Season the soup with salt, pepper and basil and mix well. Then cook at a medium temperature for about 10 more minutes, so that the different flavors of the vegetables appear and mix with each other.
4. Finally, add the spinach leaves to the soup, add your favorite pasta and cook until the pasta is soft. If necessary, adjust the thickness of the soup with additional water.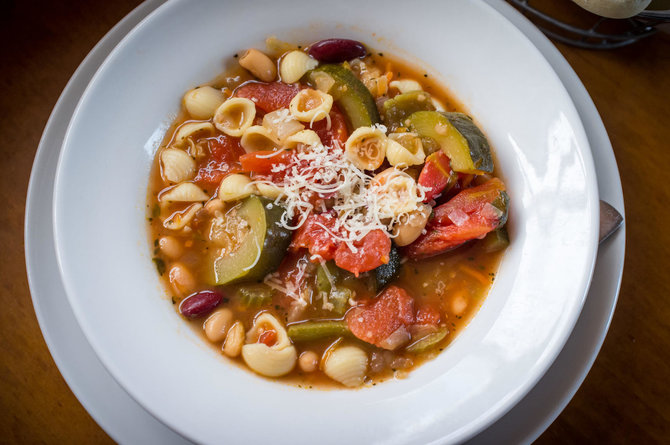 Vida Press photo/soup "Minestrone".
Fresh cabbage soup with hot pepper
ingredient:
1 small or ½ large Cabbage;
1 onion;
2 cloves of garlic;
2 carrots;
4 potatoes;
1 can of canned peanuts;
1 l of chicken broth;
5 g fresh parsley leaves;
a pinch of ground hot pepper;
a pinch of salt;
a pinch of pepper;
3 teaspoons. spoon of olive oil.
Make:
1. Cut all the vegetables into pieces of the desired size, you can slice the cabbage.
2. Heat the olive oil in a pan, add the chopped onion, press in the garlic and fry for 5 minutes. Then add the canned beans, carrot pieces and pour the chicken stock. After 10 minutes, add the chopped potatoes and cabbage.
3. Season everything with pepper, salt and hot pepper – it will give a good aroma and taste. Serve the soup garnished with chopped parsley leaves.