Today, the traditional Lithuanian zeppelin cooking championship takes place in Gargždais. While the competition team is still changing pots, the Wheat community is there, celebrating Zholina and waiting for a wonderful guest from Lviv, boiling in at least a hundred zeppelins!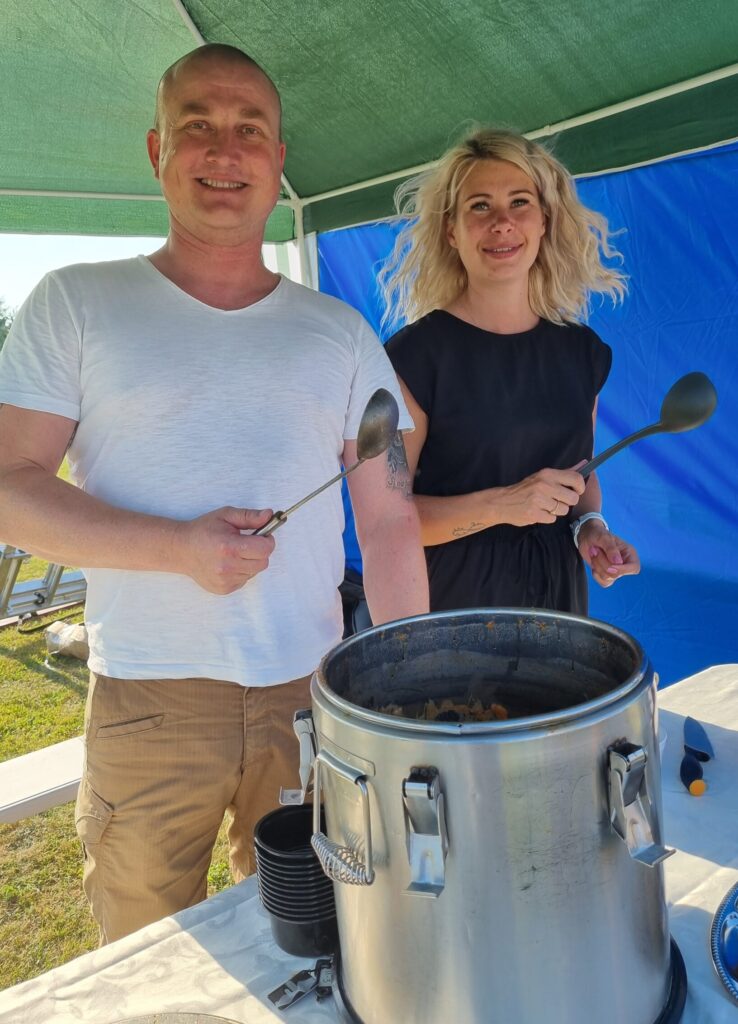 Gediminas Girgždis, chairman of the Kvietiniai community center, emphasized at the celebration that the zeppelin was cooked with sincerity and focus by the best gaspadinia in the village of Kvietiniai. "If we compete in the zeppelin cooking championship, we're guaranteed the championship!" Now we're practicing," joked the men from Kvietniški, after boiling the biggest pot of zeppelins, not sparing the delicious cracker sauce on each zeppelin.
Two bags of potatoes alone were grated! In fact, the Kvietinii community deserves praise: they served a delicious zeppelin not only for the guest choirs from Lviv who performed at the festival, but also for the festival participants. No one should drool, anyone who asks the hosts not only a zeppelin, but also a glass of kefir.
If you think that zeppelin is the only party in Zholinė, then you don't know the level of hospitality of Kvitinė.
The sunlit festival square was filled with a pleasant aroma. This is the smell of fresh vegetable soup being fried. What do you need for such a soup? "You have to have a keen eye and a steady hand", smiled Zigmantas Rudgalvis and Laura Stankienė revealed the secret of the recipe. However, the most important ingredient is love, without which the dish will not taste good. "It's great for the wheat community to feed the holiday guests with love, especially the Ukrainians who appeared. We will all live better if we show good deeds, if good news spreads faster than bad news", the happy Kvietiński – happy to be sure.
Vilija BUTKUVIENĖ
photo of Andrias JOKUBAIČIS.