Food experts say that the most commonly used wheat flour varies, so they prepared a brief but useful reminder of the uses of common wheat flour.
How did the flour come?
Bread, pasta, pizza, all kinds of cakes, buns, cookies, pies and other favorite dishes and baked goods would not exist without flour. Common wheat flour is not only used for baking: it is used to thicken various sauces, even soups.
Recently, buyers pay more attention not only to the price of flour, but also to the quality, they try to experiment with recipes, textures and flavors of dishes, which also find whole wheat or gluten-free flour in the basket.
However, traditional white wheat flour remains the most popular. They are obtained by grinding wheat grains. However, different parts of the grain are milled for different types of flour.
Wheat consists of three parts – the bran, which forms the outer shell of the grain, the endosperm, which lies beneath the bran, and the germinal part of the grain. These three parts also differ in nutritional composition: the bran is rich in fiber and minerals, the endosperm is high in protein and carbohydrates, and the sprout is high in fat. The properties of these three parts determine the difference between wheat flour.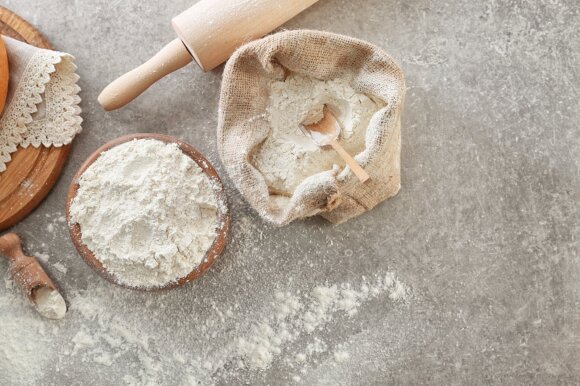 It differs in nature and taste
According to experts, although they come from the same cereal, they differ not only in their names, but also in their properties. For example, common wheat flour lasts longer in the kitchen cupboard, and baked goods made from it usually have a lighter texture.
Whole wheat flour, on the other hand, has a stronger flavor, but it expires faster.
And the biggest advantage of gluten-free flour is the variety of flavors: from coconut or almond flour to buckwheat or chickpea flour.
Experts have prepared a short note on the use of flour, which will help you not get lost when choosing this ingredient.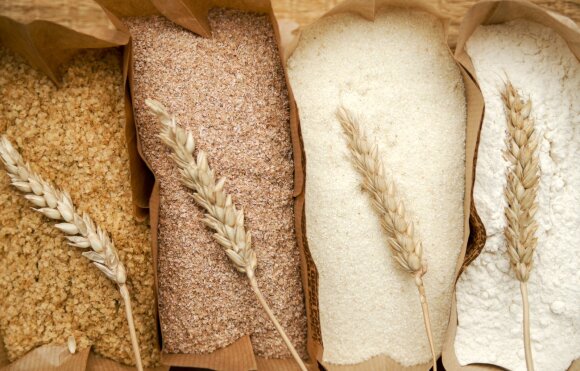 White flour.
This is the most famous and most commonly used wheat flour. It is made by grinding only the endosperm, so it is suitable for preparing different types of dough. The endosperm contains a high concentration of protein in the formation of gluten when the flour comes into contact with water. Gluten helps trap the air released during the yeast multiplication reaction and thus helps maintain the shape of the kneaded dough.
So, white flour is the safest choice for baking bread, pizza or other baked goods made from yeast dough.
Whole wheat flour.
As the name suggests, they are taken by milling whole grains. Although compared to white flour, it has more nutrients, baked goods made from it, such as bread, will have a stronger flavor and a heavier consistency. Therefore, flour from all parts of the grain is often mixed with white, to get a smoother texture of baked goods, softer bread.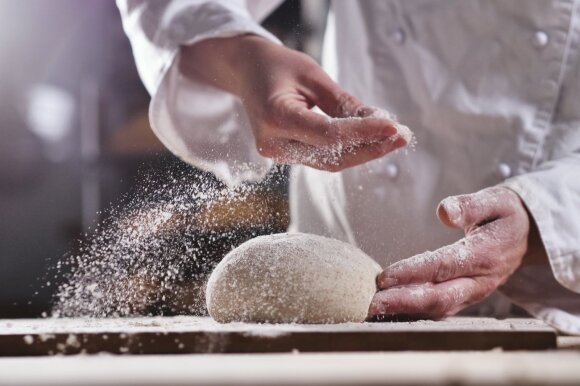 Flour for specific baking.
On the store shelves, you will always notice a lot of flour for baking certain baked goods, such as flour for bread or pizza dough. This special flour contains more protein or gluten, so when used, the dough rises better and has more air bubbles that give it fluffiness and softness.
On the other hand, flour for cakes or sweet pastry dough only has less protein, so the food is more fragile.
Gluten free flour.
For people who cannot tolerate gluten, it is better not to choose wheat flour. Fortunately, there are many alternatives, such as corn, rice, buckwheat or millet flour. Although it can be used to make bread dough, pasta or some cakes, the result will not be the same as using wheat flour.
The dough will be fragile and the consistency is quite difficult, so it is recommended to mix hydrocolloids, for example, pectin, which plays the role of a binding agent, like gluten in white flour.