Meals that are cooked or fried in one pan are a salvation for athletes who are always in a hurry. First of all, because this way you can prepare more portions of food at once and create your own nutrition plan even a few days in advance. When cooking in one pot, it is also recommended to use as many different ingredients and flavors as possible, to improvise, so that you can surprise yourself and others by choosing a rich and low-calorie dish.
Garlic chicken with vegetables (4 servings, 295 kcal per serving)
Photo LIDL/Garlic chicken with vegetables
You will need:
2 medium LIDL chicken breasts,
400-500 g of broccoli (you can replace broccoli with zucchini, asparagus, Brussels sprouts, green beans, steamed potatoes),
30 g of butter,
3-4 cloves of garlic,
1 teaspoon olive oil,
quarter cup water or chicken broth,
1 teaspoon lemon juice,
1 teaspoon of salt,
half a teaspoon of pepper,
1 teaspoon Italian seasoning.
How to cook: Cut the chicken breast in half horizontally into four pieces. Sprinkle the seasoning over the chicken. Heat the olive oil in a large frying pan over medium heat, add two tablespoons of butter and the chicken. Fry the meat for 4-5 minutes. on each side or until brown.
Remove the chicken from the pan and add the remaining butter, garlic and spices. Stir until you smell the garlic, then add the broccoli (or other vegetables) to the pan, add the water/broth and lemon juice. Cook the vegetables until tender and ready to eat, then return the chicken to the pan and reheat. Delicious!
Italian vegetable soup Minestrone (6 servings, 283 kcal per serving)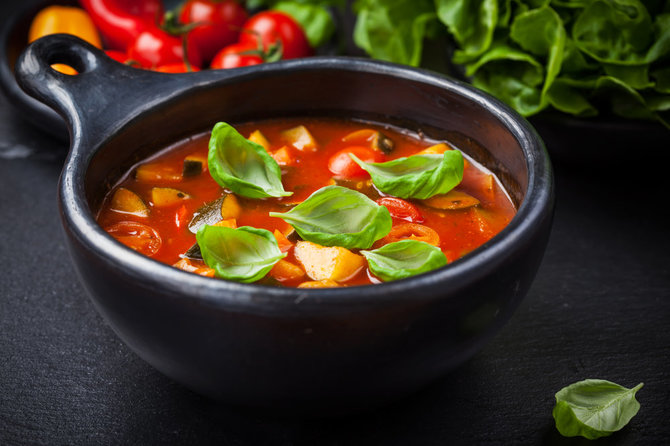 Photo LIDL/Italian Minestrone vegetable soup
You will need:
2 teaspoons of olive oil,
1 garlic,
3 cloves of garlic,
a third of a cup of dry red wine,
2 large carrots
2 stalks of celery,
800 ml Freshona canned tomatoes,
1 teaspoon tomato paste,
8 cups vegetable broth,
2 teaspoons apple cider vinegar,
half a kilogram of canned beans,
half a kilogram of freshona canned red beans,
1 and a half cups of frozen peas,
4 cups spinach or kale,
250 g shell-shaped pasta,
spices (salt, Italian herbs, red pepper, garlic powder, bay leaves, fresh oregano).
Cooking process: boil the pasta in a large pot and cool it in another bowl. While the pasta is cooking, chop onions, carrots, celery, wash and dry canned leguminous vegetables.
Add the olive oil to the same pot placed on a hot fire, add the chopped onion and let it cook for 2-3 minutes. After a few minutes, add the garlic to the pot and pour in the wine, using a wooden spatula to scrape up the garlic and onion slices from the bottom of the pot.
Put carrots and celery in the pot, let them cook for 2-3 minutes. Later, add crushed canned tomatoes, tomato paste, add broth and vinegar, season with spices and mix well. Bring the pot to a boil and reduce the heat of the stove to medium, let it boil for 15-20 minutes.
Finally, add the spinach or kale, peas, beans and chickpeas to the pot. Stir and let the soup simmer for another 5 minutes. Serve the soup by filling the noodles generously. Delicious!
Spicy egg and potato stew (4 servings, 320 kcal per serving)
You will need:
800 g canned Freshona tomatoes,
5-6 eggs,
200 g potatoes,
100 g goat cheese,
half a cup of chicken or vegetable broth,
2 teaspoons of olive oil,
half a garlic,
3 cloves of garlic,
3 teaspoons of pepper powder,
1 teaspoon of salt,
2 cups of kale.
Cooking process: heat one tablespoon of oil in a deep pot over medium heat, add chopped onions and fry until soft. Add chopped garlic, salt, a spoonful of chili powder, tomatoes and pour broth and leave to simmer for 10-15 minutes. Transfer the cooled stew to a blender and blend the sauce until smooth.
In the same pan, heat the remaining olive oil, add the potatoes and a spoonful of chili powder. Fry the potatoes until they look brown on the outside. Then pour the sauce back into the pot and let it boil for another 10 minutes. or until the potatoes are soft. Pour the sliced ​​kale into the pan.
Using a spoon, make a hole in the top of the pot and pour the egg directly into the pot. Cover the pan with a lid and cook on low heat for 10 minutes. boiled eggs. Remove the pot from the heat and leave for a few minutes. Sprinkle the stew with goat cheese and serve with a slice of toast. Delicious!