The most important thing is high-quality broth
Soup is a hot dish, usually made from vegetables, grains, meat or fish broth. Dietician Ž. Dumbraitė–Varkalienė says that for Lithuanians living in colder climates, soup is a wonderful winter dish, not only warming, but also comforting. However, specialists emphasize that it is not common to think that all soups are healthy, but this is not true. The nutritional value of soup depends on the preparation method and composition.
"Soups often use bone broth, which is rich in collagen. This is a protein that is beneficial for the body. Soups are also seasoned with vegetables, which contain vitamins and minerals, and grains, which are rich in fiber. Other ingredients such as herbs, onions, garlic are an excellent source of antioxidants. It is important to remember that the soup should not be cooked too much, the longer we cook vegetables and grains, the more useful ingredients are destroyed. This does not apply to bone broth, which should be cooked slowly, on a low flame, preferably 4-6 hours, if we want to extract the best properties," said the specialist.
Dietitian Živilė Dumbraitė-Varkalienė
Quality broth is considered one of the most valuable ingredients in soup. It seems that the preparation is very long, but the stove does all the work. The stock of bone broth can be replenished for a week, and the soup can be made in just ten minutes.
It can be a cheat meal
There are many soup recipes on the Internet, and when you visit a catering company, you can find traditional and even very exotic soups on the menu. Dietician Ž. Dumbraitė–Varkalienė emphasized that soup with vegetable pieces and soup puree are equally valuable, but some people prefer pureed soup. In most cases, soups prepared in this way use denser products and less broth, so this soup fills up faster.
"Indeed, soup can sometimes be a cheat meal – for example, mushroom soup with cream. After eating, we can be full, but not for a long time, and in terms of calories, the soup will be a sin. It is very useful to add peas in soup, which people often reject because they don't like it. Peas are perfect in soup, so who doesn't like the taste and texture that beans, lentils or peas give to soup," he said in an interview.
According to dietitians, soup is a good food for patients with colds. This is a light and fast-digesting dish that will help you gain strength and fluids, but will not weigh you down. In addition, the soup is suitable for the elderly or people who often have stomach acid or need a cleansed diet. Soup should also be chosen by people who complain of intestinal disorders such as pain in chewing and swallowing, painful oral cavity or pharynx.
Tips for cooking at home
Soup, if prepared incorrectly, can also cause health problems. The interviewer said that the way the soup is prepared is very important. For example, roasted tomato soup or spicy Asian soup may not be suitable for people who complain of reflux and other stomach problems.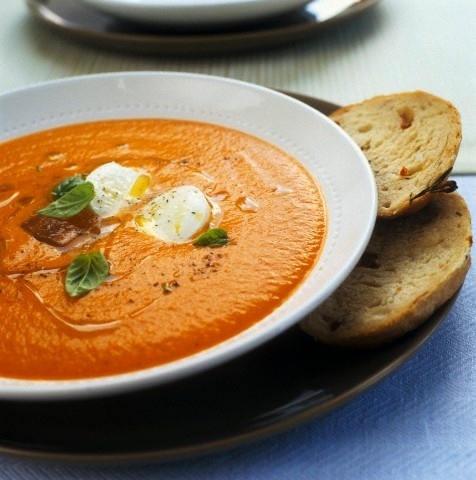 soup
"For a healthy soup, cook the vegetables only until soft, then turn off the heat and stop cooking. Cook the broth separately, use steamed vegetables. If you want a healthier alternative, you can bake vegetables, such as beetroot, in the oven," he said. dietitian.
According to him, the biggest mistake when making soup is overcooking. Too much salt can also be harmful. Salt specialists recommend adding just enough to add flavor, but not to oversalt the soup. The interviewer emphasized that the soup whitened with cream or sour cream is more caloric, but sometimes, as a main dish, the soup is really not too sinful. When choosing the healthiest dish, dieticians recommend trying vegetable soup.
Soups have gained popularity during the pandemic
"AUGA Group" is the largest vertically integrated organic food company group in Europe. The company offered organic soup to the market in 2017. Laurynas Miškinis, head of development and commercialization of organic products, said that, like all new products, introducing organic soup to the market requires a lot of work – it is necessary to prove its value and ease of consumption. According to him, the soup is not new in the world, people buy it and eat it, but if you look at the central European market, especially Latvia, Lithuania and Estonia, the category like soup opened and eaten does not exist. until 2017. People can buy semi-finished products, broth cubes, various dry soups that need to be poured with water, but there are no ready-made soups.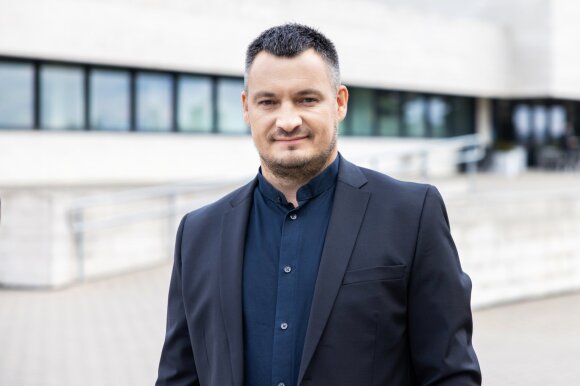 Laurynas Miskinis
© organization photo.
"AUGA" is not only the first to offer this soup, but it is also famous because it is offered to customers as organic. Consumers like the product, they like the soup. We are happy because we are not only developing the organic market in Lithuania, but also creating a ready-to-eat soup category from scratch," the interviewer said.
Representatives of the company said that the pandemic has also adjusted people's eating habits. When people are forced to spend more time at home, unable to work, children study at home, sedentism increases. It was then that people became concerned about what they eat every day and began to be interested in the benefits of a healthy lifestyle.
"The demand for organic food is increasing. People know that we only live once and what we put into ourselves is important. Customers know and believe that organic is not necessarily healthier, but it is healthier than others. Last year, sales of soup , which reaches 40 countries, has increased by more than a third. It is also related to people who are tired of constantly cooking for themselves and their families. During the pandemic, when they are at home, they do not want to constantly stand on the pan, but they know if ordering unhealthy food is not the best solution, then ready-made soup is a good option for those who want to fill up. , but do it in a healthy way," said L. Miškinis.
The most popular soup
An AUGA representative said that the sales and popularity of the soup depend very much on the region of the world where the product is intended. The general global trend is that the five best soups today remain as follows: Spicy Curry Soup, Triple Lentil Soup, Mushroom Soup, Minestrone Vegetable Soup, Butternut Squash Soup.
"This soup is a great solution for people who want a tasty lunch at work or don't have time to cook at home." It is also good that they fill you up, but do not overeat. This ready-to-eat soup is designed for an interesting taste, rich in ingredients and spices," says the organic and commercial product development manager.
The interviewer said that customers want ready-to-use products. People are in a hurry, they don't have time, they are tired of cooking, but they pay attention to the fact that the products they buy are healthy.
It is strictly forbidden to use information published by DELFI on other websites, media or elsewhere or to distribute our material in any form without permission, and if permission is obtained, must credit DELFI as the source.