Lithuanian women. Archive photo of the committee.
www.voruta.lt
June 26 the game "Vētrungių kelias" starts, which invites you to travel and get to know the area of ​​Little Lithuania. This game is intended for those who want not only to have an interesting time, but also to get help to understand the unique ethnographic area of ​​Little Lithuania, heritage, and peculiarities of life by water. Start your acquaintance with Little Lithuania with the fragrant "Ipatic" Klaipėda "coffee".
That day will be held in the area Coffee day. We invite visitors to Little Lithuania to look for cafes marked with the "Coffee Day" promotional sign and try the traditional drink of the region.
Coffee, once taken from Germany, became so popular in Lithuania that it even supplanted breakfast soup. Every Lithuanian woman has her own secret to prepare this traditional drink, so we often hear different recipes for making coffee. Our partners will also prepare coffee according to different recipes. Therefore, it is worth "tasting" (tasting) more than one cup of this drink and find chicory, cracked oak acorn, barley, wheat, Rye or coffee shop taste best for you.
The campaign will take place in Klaipėda city, Neringa, Pagėgiai, Jurbarkas district, Klaipėda district and Šilutė district.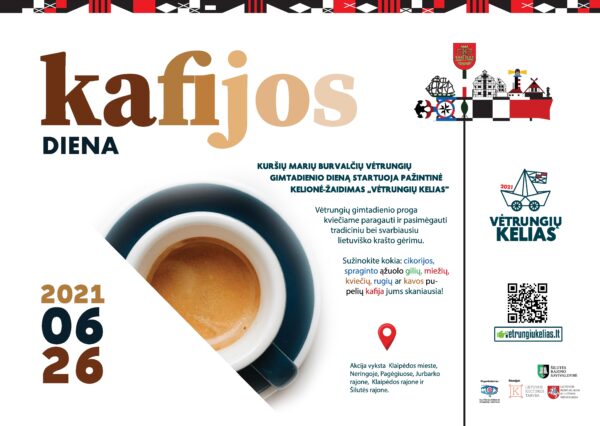 HAPPY COFFEE !
Team "Vetrungii kelis".
Information tel. 8 671 28200, info@vetrungiukalias.lt
COFFEE DAY PROMOTION WILL BE HELD*:
in Klaipėda:
Restaurant "Ethno Manor", Sukilėi st. 8, Klaipėda
Gastrobar "fat cat", Žvejų str. 21/ Teatro str. 1, Klaipėda
Restaurant el dorado, H. Manto str. 44-27
Klaipéda District:
Restaurant "Venckai in Venckai" Kinto st. 6, Venckai, Klaipėda District.
Restaurant "Karčema Mingė" Klaipėda st. 9, Priekulė, Klaipėda district.
website Glue it Kantvainų str. 5, Kantvainu Village, Klaipėda District.
In Nida, Juodkrante:
Cafe "Old House", Nida, Nagiau st. 6,
Restaurant "Fish", L. Rēzas str. 1, Juodkrante
In Šilutė:
Restaurant "Giliya", Vytauta st. 17, Silute
Restaurant Rambyn, Lietuvininkų st. 68A, Silute
Cafe-Restaurant "stop the truck", Lietuvininkų st. 13, Silute
In Šlute district:
Villa Restaurant "On Peters Bridge" Šilutė st. 13/ Jalan Nemunas 1 Rusnė, Šilutė district.
Restaurant "Blue Fish", Kuršių st. 11, Kintai, Šilutė District.
In pegs:
Restaurant "Platform" , Geležinkelio str. 11, Pegagan
guest house "female fish", Jūris st. 12, Village Mociskiu Vilkyškii Sen. Manage weekly
In Smaliinki:
Little Lithuania Jurbarkas Regional Cultural Center, Moyklos st. 1, Smalinkai
"Violet Gallery", Moyklos st. Smalininkai and Viešvilė community houses.
in Jurbark:
Cafe "Morning", Vytautas Didijo str. 38A, Jurbarkas
* The list of campaign participants is subject to change