Excellent French cuisine is popular all over the world: croissants, omelets, desserts that capture the imagination just by the name, and all kinds of food. Today we will not talk about the aristocratic menu of French fashion dictators, but about simple home-made French dishes, prepared from almost one ingredient.
So, meet: French onion soup and the most important tips from Kitchenmag that will allow you to prepare this dish no worse than a real chef.
1. Do you have to
A famous saying goes that many cooks will spoil the simplest soup. Of course, the French think about the onion soup ingredients, which are very few.
It is said that the first to prepare this soup was the King of France, Louis XV, who tried to cook it in a hunting lodge, finding nothing but butter, champagne and onions. Of course, we cannot verify the truth of this legend, but when it comes to the ingredients of onion soup, nothing has changed since then.
You'll need lots of onions: sweet onions are best, but simple or red onions (or all together) work well too. Prepare a head of onion per person: for example, if you are preparing soup for five people, you will need five heads of onion. You will also need butter and flour for frying, some white wine (many prefer sherry), stock (vegetable, meat or mushroom), hard cheese (Parmesan or Gruyère), a dry French baguette and a few sprigs of thyme. These are all ingredients that will allow you to create a real French culinary masterpiece.
2. Fry onions
In almost all recipes, it is recommended to cut the onion in half rings, but in order to fry it better, the onion first. Then you have to fry it in butter – fry it until it turns golden. Remember that patience is the key here: to get the right flavor and aroma, onions need to be cooked on medium heat for a long time.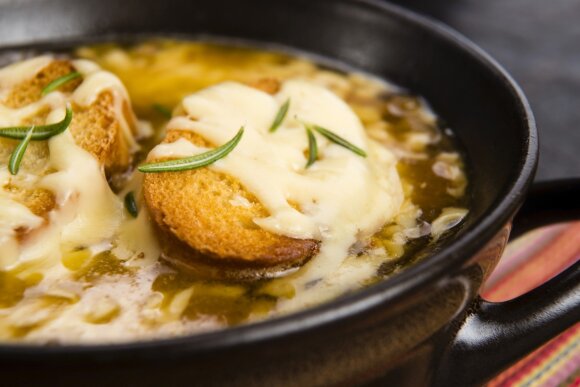 When the onion gets a pleasant golden color and the kitchen is filled with a good aroma, add a few teaspoons of flour and mix everything. The last step is to add half a glass of dry white wine or sherry and fry for a long time. The soup base is ready.
3. Add broth
The most important feature of the broth poured into the onion is that it should be hot. Many believe that beef broth is best for onion soup, so this version of the soup has become a classic.
However, other broths will not spoil this soup: chicken, if you do not like beef, or vegetables, if you are vegetarian. No less tasty and original soup will be made from mushroom broth.
4. Leave to cook
If you have finished most of the work, you can cover the pot with a lid, leave the soup to cook on low heat and go about your business for half an hour.
Of course, it's best to pop into the kitchen every now and then and stir the soup to make sure nothing burns on the bottom. And those who don't like to waste their precious time can do the final preparations in that half hour.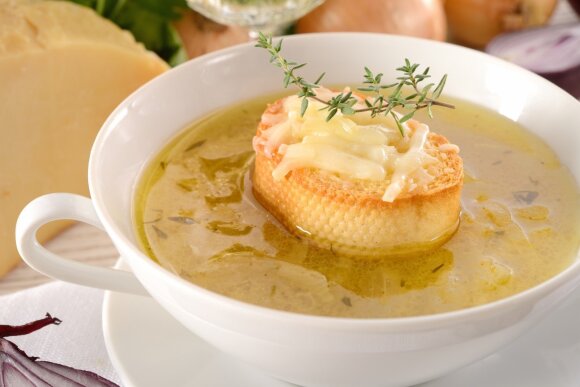 5. Garnish with toast and cheese
It turns out that the essence of French onion soup is not the onion, but the proper presentation. It is served with cheese and crispy croutons. Somewhere in the kitchen, a French baguette is drying out? Good, now you can use the toast.
If you only have fresh French baguettes at home, you should slice them and then bake them in a toaster or oven until the baguettes are soft.
Pour the prepared soup into a bowl, top with croutons and pour the glory with a large amount of cheese. Then put part of the onion soup in the oven to melt the cheese and heat it up.
Serve the soup directly on the table, previously decorated with thyme sprigs. Be careful, very hot and indescribably delicious!
It is strictly forbidden to use information published by DELFI on other websites, media or elsewhere or to distribute our material in any form without permission, and if permission is obtained, must credit DELFI as the source.