History of Spanish cold soup
Some believe that the Romans made mashed soup from stale bread, garlic, olive oil, salt and vinegar, others that it was the Arabs who lived in the Al-Andalus region. It is the food of the poor. However, it eventually spread and became part of Andalusian cuisine. Especially this soup became popular in Córdoba, Seville and Granada.
In the 16th century, this no-frills snack was joined by Mr. Tomato and Mr. Pepper from America. This is how a white soup takes on a red color and still receives a standing ovation – even internationally.
Classic gazpacho
The soup is made by pounding garlic cloves, stale white bread, olive oil and salt. Next, very ripe tomatoes, cucumber, onion, pepper and wine vinegar to this mixture. This method of beating is sometimes used even today, when you want to give the soup a particularly original taste, and at the same time let bubbles form on the surface of the soup. Mashed gazpacho is poured into an earthenware dish without glaze and put in the refrigerator to set, and when it cools down, add a little water.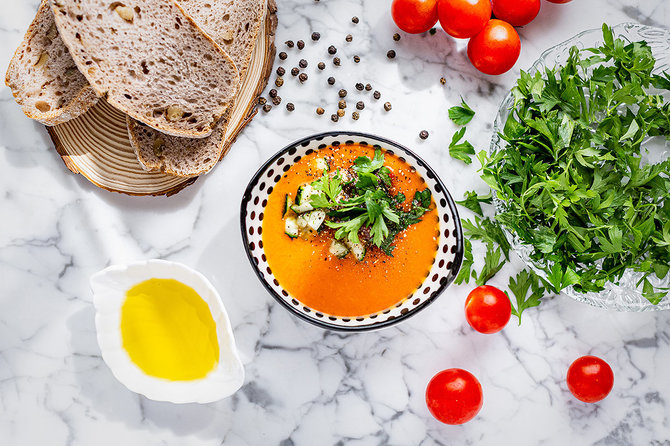 Photo by Laima Druknerytė/Gaspach
Modern gazpacho
I have seen gazpacho with avocado, strawberries, watermelon, seafood. Andalucians do not understand why this soup is offered diluted with ice cubes to country guests in beach restaurants. But what makes gazpacho unique is that each region has its own cooking method, and each restaurant has its own unique recipe.
However, the stubborn Andalusian never misses an opportunity to say that the best gazpacho he has ever eaten must have been made in his mother's kitchen.
I invite you to make real gazpacho in the Lithuanian kitchen.
Gazpacho
Ingredients (for 6 people):
(preparation time – 15 min. and another 1 hour for completion)
1 kg of ripe tomatoes;
1 Italian green pepper;
1 cucumber;
2 cloves of garlic;
50 ml olive oil (Virgen Extra);
50 g yesterday's bread (white);
250 ml of water;
salt (to taste);
30 ml light wine vinegar;
herb.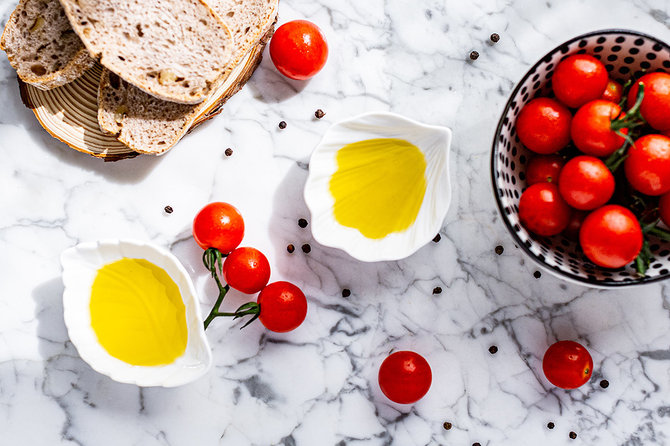 Photo by Laima Druknerytė/Gaspacho ingredients
Make:
1. We sprinkle bread with wine vinegar and leave to absorb. If you do not use vinegar in the kitchen, soak the bread in oil.
2. Cut all the specified ingredients, put them in a container. We also throw bread into it, add olive oil and cold water.
3. Grind the mass with a blender. The soup should have a homogeneous, creamy texture.
4. We cover the container with a lid and put it in the refrigerator for at least an hour to cool well.
5. Cut cucumber and herbs for garnish.
dish:
Soup can be served on a plate and eaten with a spoon, or it can be served in a glass – like a thick drink.
Recommendations and Variations:
Use plum tomatoes or those with thin skin, few seeds, flesh and not too acidic.
The tomatoes can be peeled before the soup, or the skin and seeds can be removed through a fine sieve after the soup has been clarified.
In the production of cold soup, special attention is paid to quality products, especially oil. It balances the flavor of the soup.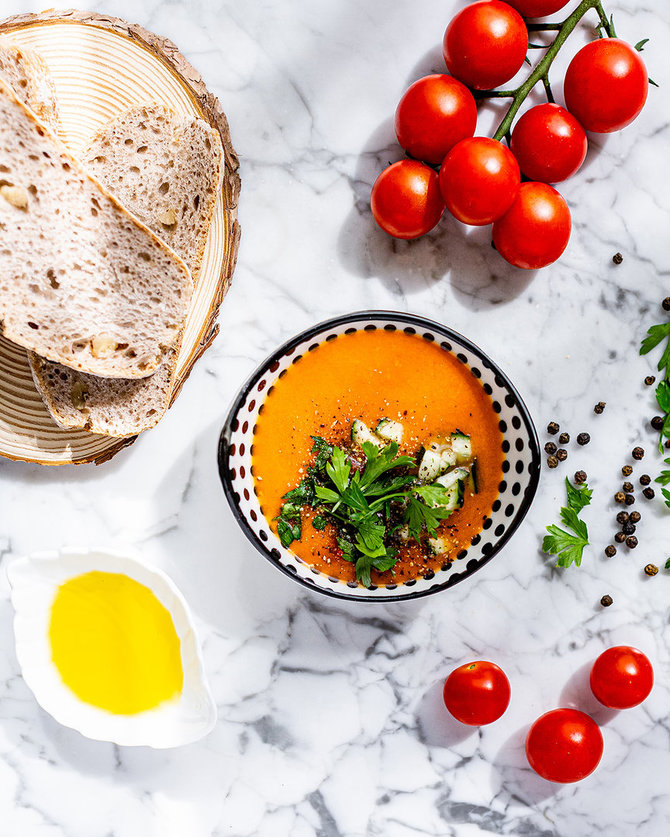 Photo by Laima Druknerytė/Gaspach
The rubric "Andalusia Pan" is provided by the blog Virgenextra.lt Laima Druknerytė tells about the region of Andalucía in the south of Spain, its culture, cuisine, traditions, customs and especially pure olive oil on this page. Also check this page for daily inspiration from Andalusia Facebook and Instagram account.